Chase De Leo
2009-10: Chase De Leo was one of the top scorers for the LA Selects bantam AAA team that reached the US Tier 1 14-U championship game. He was selected by Portland in the ninth round (192nd overall) of the 2010 WHL Bantam Draft.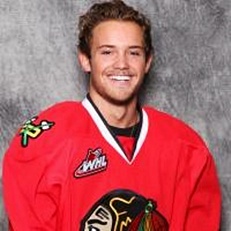 2010-11: De Leo skated for the Los Angeles Selects U16 team. In 35 games he scored 20 goals with 19 assists.
2011-12: De Leo made his WHL debut with Portland as a 16-year-old — skating in 69 of 72 regular season games and all 22 playoff contests for the Winterhawks. Playing a lower line role for the WHL's top scoring team, he scored 14 goals with 16 assists and was +12 with 25 penalty minutes in the regular season. De Leo had 1 assist and was -1 with 2 penalty minutes in the playoffs as Portland reached the WHL Finals against the Edmonton Oil Kings.
2012-13: De Leo provided valuable secondary scoring for Portland in his second WHL season. He scored 18 goals with 38 assists and was +28 with 24 penalty minutes in 71 regular season games. The Winterhawks had the WHL's best record and captured the playoff title; reaching the Memorial Cup for the first time after three straight WHL Finals appearances. De Leo scored 5 goals with 12 assists and was +12 with 15 penalty minutes in 21 WHL playoff games. He scored 2 goals with 1 assist and was +2 with 4 penalty minutes in five Memorial Cup games.
2013-14: De Leo participated in USA Hockey's Select 17 Camp before returning to Portland for his third WHL season. De Leo was one of three Winterhawks to skate in the 2013 CCM/USA Hockey All-American Prospects Game and was named to Team Cherry for the 2014 CHL/NHL Top Prospects Game.