2013 Tournament Information
Your tournament committee has 20 years of experience operating AAA Hockey tournaments. Our mission has been to provide a great on-ice and off-ice experience for all players and their families.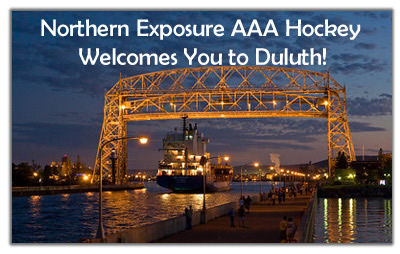 We fully understand the large commitment coming from your end with time constraints, travel and other expenses. With that said, we are striving to provide a quality product by attaining higher end AAA programs from throughout North America. We are excited to have teams from as far as Alaska, Arizona and Canada that have continued to come back year after year. A strong connection with many AAA Summer programs and their contacts has allowed us to do that. Importantly, we have secured the best officials the northland has to offer along with knowledgeable game workers. In our first season, each and every game came off without a hitch.
Finally we want to make your stat an enjoyable one with reasonable game-times and locations, hassle-free registration (please see registration page), quality hotels and availability to enjoy your wonderful northland at peak season.
We have not left out any of the tournament extras including team and individual awards, t-shirts and 'Visit Duluth' packs for sale and more! We do NOT charge a gate fee, so we encourage you to bring your family, friends and anyone else wanting to see quality summer hockey at its finest!
From all of us, to all of you, we want to extend a warm welcome to Northern Exposure Hockey!
To visit the Tournament website Click Here.
| | |
| --- | --- |
| | July 19-21, 2013 |
| | |
| | High School (1995/1996), 1997, 1998, 1999, 2000, 2001, 2002, 2003 |